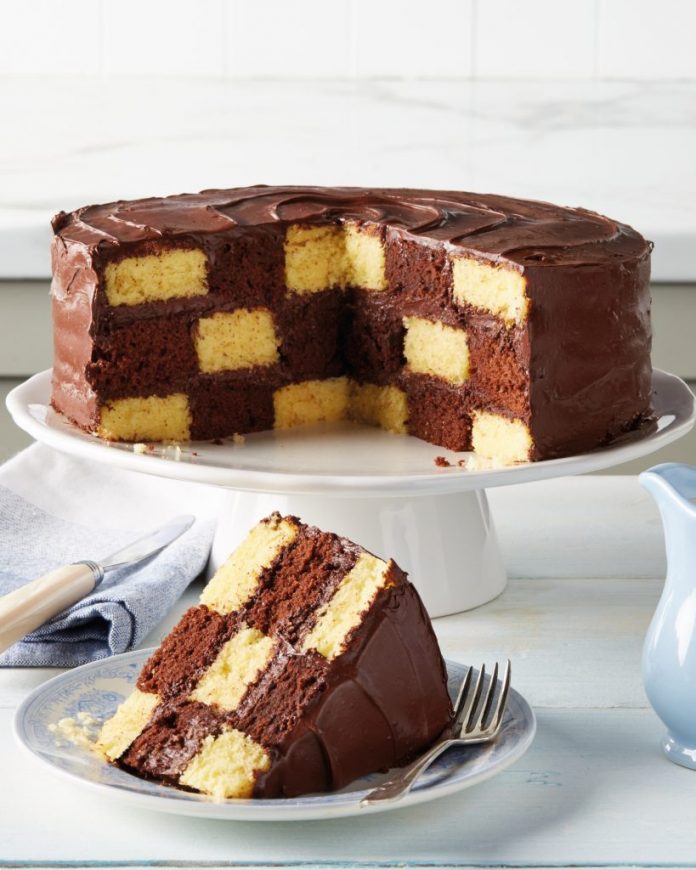 In this recipe, it gets a chocolate twist, and a bit of fun to create a unique and delicious dessert. Just like when you can't decide between vanilla and chocolate soft serve and opt for a twist, the checkerboard cake gives you the best of both worlds.
Ingredients;
2 1/4 c. cake flour
2 tsp. baking powder
1/2 tsp. salt
3/4 cup milk
1 tbsp. milk
1 1/2 tsp. vanilla extract
1 1/2 cup sugar
3/4 c. butter or margarine
3 large eggs
2 oz. semisweet chocolate
1 oz. unsweetened chocolate
chocolate frosting
Ingredients;
Preheat oven to 350 degrees F. Grease three 8-inch round cake pans. Line bottoms with waxed paper; grease paper. Dust pans with flour.
In a medium bowl, stir together flour, baking powder, and salt. In 1-cup measuring cup, mix 3/4 milk and vanilla.
In a large bowl, with mixer at low speed, beat sugar and butter until blended. Increase speed to high; beat 5 minutes, until light and creamy.
Reduce speed to medium-low; add eggs, 1 at a time, beating well after each addition. Reduce speed to low; add flour mixture alternately with milk mixture, beginning and ending with flour mixture.
Beat just until smooth, scraping bowl occasionally with rubber spatula.
Spoon half of the batter into medium bowl. Into batter remaining in large bowl, with a rubber spatula, stir in melted chocolates and remaining 1 tablespoon milk.
Spoon vanilla batter into 1 large decorating bag with a 1/2-inch opening. Repeat with chocolate batter and a second large decorating bag with a 1/2-inch opening.
Pipe a 1 1/2-inch-wide band of chocolate batter around inside edge of 2 prepared cake pans, then pipe a 1 1/2-inch-wide band of vanilla batter next to each chocolate band.
Pipe enough chocolate batter to fill in the center of each pan. In the third pan, repeat piping, alternating rings of batter, but start with vanilla batter around inside edge of the pan.
Stagger cake pans on 2 oven racks, placing 2 on the upper rack and 1 on the lower rack so that pans are not directly above one another.
Bake 20 minutes, or until a toothpick inserted in center of layers comes out almost clean. Cool in pans on wire racks 10 minutes.
With a small knife, loosen layers from sides of pans; invert onto wire racks. Remove waxed paper; cool completely.
Meanwhile, have ready the chocolate frosting of your choice. Place 1 of the 2 identical cake layers on cake plate; spread with 1/2 cup frosting. Top with the reverse-design cake layer.
Spread with another 1/2 cup frosting. Top with remaining cake layer; frost side and top of cake with remaining frosting.