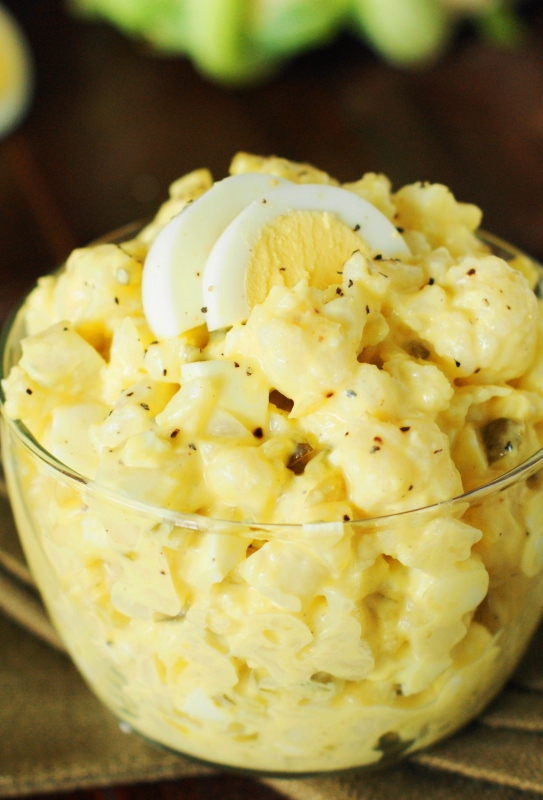 This quick & easy cauliflower mock potato salad recipe is low carb, keto, paleo, gluten-free, whole 30, and healthy. It's a crowd pleaser for everyone, too!
Summer is one of the easiest times of year for low carb recipes. Between fresh grilled meats, juicy burgers (either bunless or on low carb hamburger buns), and simple salads (like a creamy cucumber salad for a side or a healthy taco salad as a meal), there are many delicious options to choose from. Best of all, many of these foods will please everyone – even if they are not eating low carb. I didn't necessarily expect this cauliflower potato salad recipe to be one of those. To my surprise, it was!
I was surprised at how similar this cauliflower potato salad tastes like a "real" potato salad! Apparently, the dressing is what really makes the dish.
The cauliflower taste is actually quite mild, and the texture is very much like regular potato salad. The key is cooking the cauliflower to the same softness as cooked potatoes would be. Make sure your florets are very small, too.
Other than the cauliflower, this low carb potato salad is just like the one you're probably used to. It has the classic add-ins of hard boiled eggs, celery, and onions. The dressing is your typical mayonnaise base with mustard, vinegar (apple cider to keep it paleo!), and spices. So simple, and so good.
And, you'll love that you can get all the same flavors without the carbs.
INGREDIENTS:
1 large head cauliflower
2 hard boiled eggs
1/3 cup mayonnaise
1 tablespoon mustard
1 tablespoon dill relish
2 teaspoons finely diced onion
1 teaspoon fresh dill
1 teaspoon chopped chives
1 teaspoon vinegar
1/2 teaspoon salt, more to taste
1/2 teaspoon ground black pepper
1/2 teaspoon paprika
DIRECTIONS:
Cut the cauliflower into bite sized pieces, much like you would a potato for potato salad. Rinse and drain.
Add just enough water to cover the bottom of a 12 inch skillet and bring to a boil over medium high heat. Add the cauliflower to the skillet and cover to steam. Alternately, cook in a steamer basket on the stove top.
Let steam for 3-5 minutes, checking for doneness with a fork. When a fork slides in easily, add the cauliflower to a large bowl. Do not overcook the cauliflower or your salad will be mushy. I prefer it tender-crisp.
Chop the hard boiled eggs into small pieces and add to the bowl with the cauliflower.
In a small bowl, combine the remaining ingredients, except for the paprika, and whisk together to form the dressing for the salad.
Gently fold the dressing into the cauliflower and eggs, stirring to coat each piece. Sprinkle with paprika.
Refrigerate for at least 1 hour or until cold.Source :  allrecipes.com