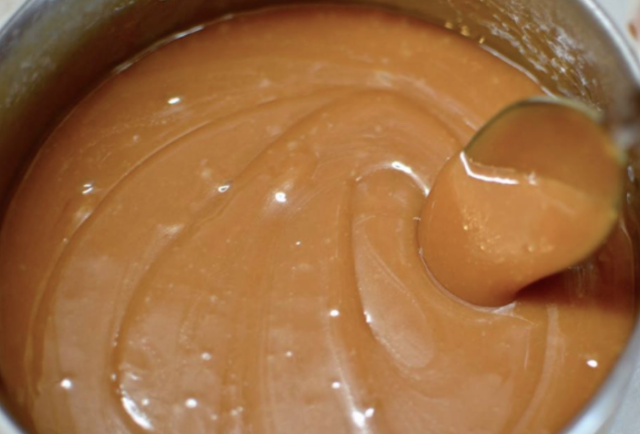 – This was so easy to make! I used it as a filling in a layer cake. When mixing in the powdered sugar, I put it on the burner that was still hot when it seemed like it would stiffen up before I had the chance to incorporate all the powdered sugar. It is a hard frosting- not a creamy one. If you want creamy, try another recipe!
– Excellent! Very easy to make and it tastes sooooo good. I wanted to make a pourable frosting so I only added the first 1/2 cup of powdered sugar. I also had to add some extra milk because after it cooled a bit it turned into a big glob. I put it on a apple bundt cake, a perfect combination. Thanks for the recipe. I definately will be using this again on many different things.
– fabulous, fabulous! This is an absolutely perfect recipe to frost a bundt cake. It makes enough frosting to liberally glaze but without all the leftover. Followed the recipe except used evaporated milk I had left over. I also browned the butter first to give it a deeper caramel flavor and color. There was no graininess. yes it is sweet…it is frosting. The flavor was very rich with a beautiful sheen. Used this to frost 'Hummingbird Cake I' from this site. I think it will compliment the bananas, nuts, and spice that are in the cake very nicely. (and a big thanks to Ronaville for a great representation of what the frosting looks like)
Ingredients
1cup brown sugar
1 half cup butter
1 quarter cup milk
confectioners' sugar, as needed
How to make it
Cook sugar and butter for two minutes.
Stir in One quarter cup milk.
Bring to a boil; cool.
Stir in 10x (confectioner's) sugar, until thick enough to spread.
Makes enough for 2 large cake layers