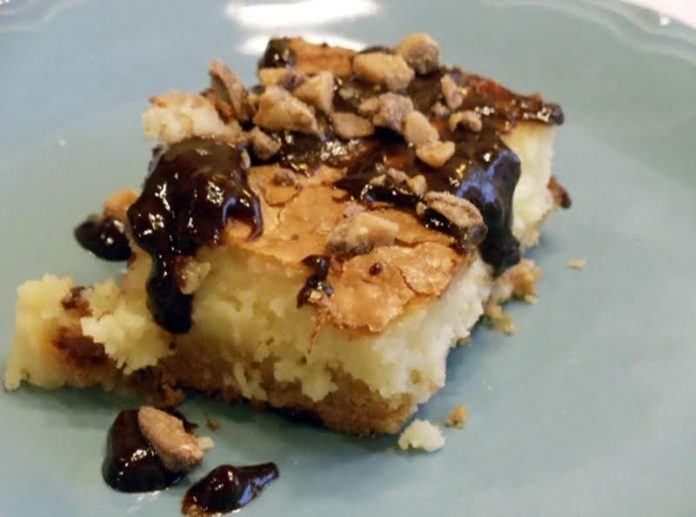 Ingredients
1
 can(s) dulce de leche [13.4 oz.]
8
 oz cream cheese, softened
2
 stick melted butter, divided
1/3
 c slivered almonds, toasted
1/3
 c mini chocolate chips, plus 1/2 cup
Directions
1.
 Preheat the oven to 350 degrees. Spray a 13×9 inch baking dish with cooking spray and set aside. Toast the almonds at 350 degrees for 8 minutes or until golden. Set aside to cool.
2.
 In a mixing bowl mix together the cake mix, one stick of melted butter and one egg until combined. Press the mixture evenly into the bottom of the prepared baking dish. On top of the crust sprinkle the mini chocolate chips, toffee bits and toasted almonds.
3.
 In the same mixing bowl, mix together the softened cream cheese and the Dulce de Leche until combined.
4.
 Beat in the remaining 3 eggs, vanilla, powdered sugar and melted butter. Whip on medium high speed so that all of the ingredients come together nicely. Pour the filling over the crust and place into the oven.
5.
 Bake at 350 degrees for 40-45 minutes. When you remove it from the oven, the cake will still appear a little "jiggly." This means you did a great job not over baking the cake!
6.
 GLAZE: Melt 1/2 cup of additional chocolate chips and 1 tablespoon of heavy cream in the microwave. Stir until completely smooth then drizzle over the cake before serving.
7.
 Allow the cake to cool to room temperature then drizzle with chocolate glaze and sprinkle with toffee bits. Serve with a dollop of whipped cream.
Last Step:
Don't forget to share!