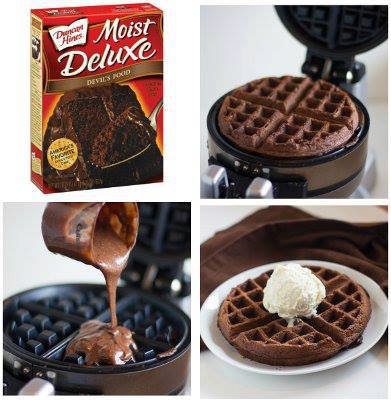 Super Easy Waffle Cake – layers of chocolate cake waffles with an incredibly tasty and creamy vanilla filling. Garnish with fresh berries and a dash of powdered sugar for a jaw-dropping dessert that couldn't be easier to make!
* List of ingredients
° 160 g of flour
° 4 eggs
° 200 ml of semi-skimmed milk
° 1 sachet of baking powder
° 1 small spoon liquide vanilla extract
° 4 c. 1 teaspoon of sunflower or grape seed or coconut oil or melted butter
° 1 pinch of salt
* Recipe steps
Combine the flour, salt, vanilla and baking powder in a bowl
Separate the yolks from the egg whites
Add the egg yolks and the oil, then gradually add the slightly warm milk. Mix with a whisk to get a smooth paste without lumps
Leave to stand for at least 30 minutes for the dough to thicken, then beat the egg whites and add them to the preparation
Bake your waffles , the waffle iron must be hot, and if possible use a spray of mold release or pass a little sunflower oil with a kitchen brush so that they come off well
ENJOY !!