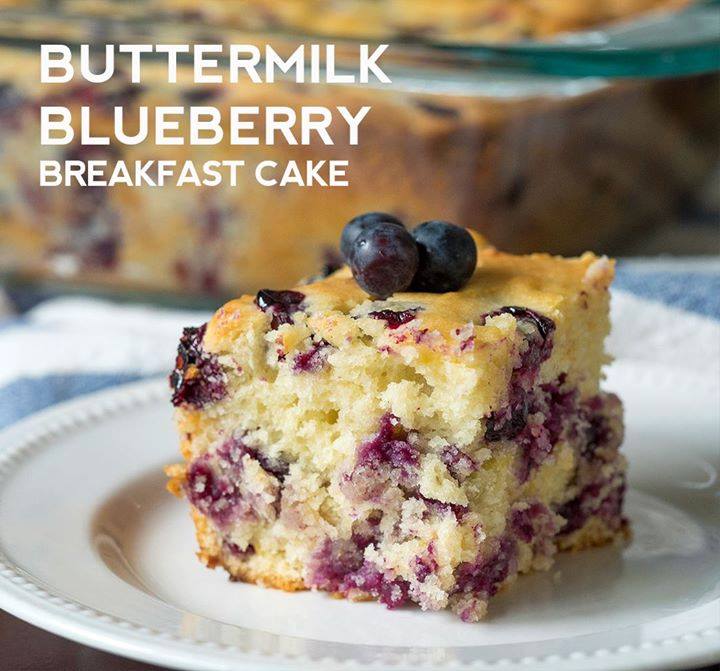 Weekends are a great time to relax but we all know they're also a good time to get things done, and for us that often means doing a little food prep for the week ahead. We like to have a few items ready to go so that everyone can get out of the house both on time and fed. Our blueberry buttermilk breakfast bake is just one of those recipes that we can go to for a weekend brunch or have on deck as a grab-and-go breakfast or snack. Sure, we could whip up a batch of blueberry muffins, but sometimes it's fun to change up that routine and do something a little different.
Buttermilk is an amazing ingredient to add to baked goods. The acidity of the milk reacts with baking soda, resulting in the production of bubbles. These bubbles bring lighter and fluffier texture to a baked good. Now, on to the good stuff: part of the joy of baking is sharing with those we care about, and this is also a great dish to share, especially as a part of a care package for friends and family. It's always nice to get something homemade, especially when it's a meal or treat that you don't have to cook!
Blueberry muffins meet blueberry pancakes in this super yummy breakfast bake. It's so easy to fall back on a plain ol' piece of toast or bowl of cereal in the morning – in fact, it's probably easier to skip breakfast altogether. We want to make sure everyone gets out of the house with a little something in their tummy to start the day. When there isn't enough time to whip up bacon and eggs, we can fall back on a slice of our super delicious blueberry bake, along with a glass of milk or a cup of coffee, to help get us up and moving.
INGREDIENTS
2 cups all-purpose flour, divided
2 cups fresh blueberries
1 cup sugar, plus extra for sprinkling on cake
1/2 cup buttermilk
1/2 cup (1 stick) unsalted butter, softened
1 lemon, zested and juiced
1 large egg, room temperature
2 teaspoons baking powder
1 teaspoon vanilla extract
1 teaspoon kosher salt
PREPARATION
Preheat oven to 350º F and lightly grease a square baking dish with butter or non-stick spray.
In a medium bowl, whisk together 1 3/4 cups flour, baking powder and salt.
In a large bowl or mixer, cream together butter and sugar and lemon zest for 3-5 minutes, or until fluffy and lightened in color.
Add in egg and vanilla extract and continue to beat until incorporated.
Starting with the liquid, take turns adding in buttermilk and flour mixture until everything is just combined.
Toss blueberries in remaining 1/4 cup flour until coated, then fold blueberries into batter.
Pour batter into greased baking dish, then top with 1-2 tablespoons sugar.
Place baking dish in oven and bake for 40 minutes, or until toothpick inserted in center comes out clean.
Remove dish from oven and let cool before serving. Enjoy!
Recipe adapted from Alexandra Cooks