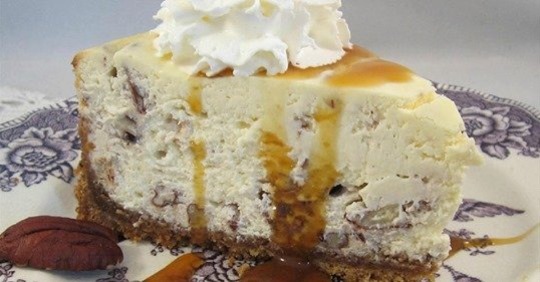 I have made this cheesecake for years and it is always a big hit. Note: you will need a springform pan. It freezes well; thaw in refrigerator before serving.
Prep: 20 mins | Cook: 1 hr | Total: 2 hrs 20 mins | Additional: 1 hr | Servings: 12 | Yield: 1 9-inch springform pan.
Butter Pecan Cheesecake
Ingredients
Crust:
1 1/2 cups graham cracker crumbs
1/2 cup chopped pecans
1/3 cup butter, melted
1/3 cup white sugar
Cake:
3 (8 ounce) packages cream cheese, softened
1/2 cup white sugar
3 eggs
2 cups sour cream
1 teaspoon vanilla extract
1 cup chopped pecans
Directions :

Preheat oven to 475 degrees F (245 degrees C).
Combine graham cracker crumbs, 1/2 cup pecans, butter, and 1/3 cup white sugar in a food processor; pulse until evenly combined. Press mixture in the bottom and partly up the sides of a 9-inch springform pan.
Beat cream cheese and 1/2 cup white sugar together in a bowl using an electric mixer until smooth and creamy. Add eggs, 1 at a time, beating well after each addition. Add sour cream and vanilla extract and mix well; fold in 1 cup pecans. Pour cream cheese mixture over crust.
Bake in the preheated oven for 10 minutes. Reduce oven to 300 degrees F (150 degrees C) and continue baking for 50 minutes more. Turn off oven, open door slightly, and let the cake sit in the oven for 1 hour.
Nutrition Info:
Per Serving: 534 calories; 44.8 g total fat; 139 mg cholesterol; 303 mg sodium. 27.1 g carbohydrates; 9 g protein
Recipe Review:
I made this cheesecake for Thanksgiving dinner and it was amazing. I followed the directions to the letter and it came out beautifully.