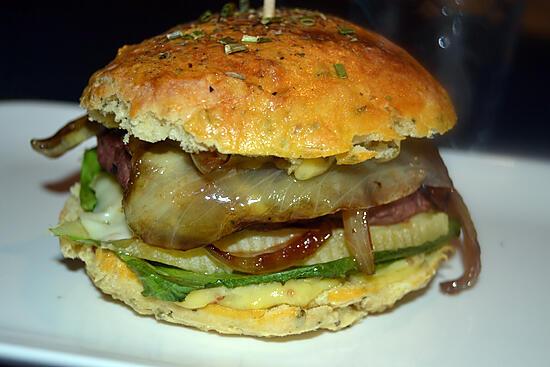 Ingredients (3 people):
3 burger buns (see recipe "my burger buns (parmesan, oregano and basil)
3 minced steak
old-fashioned mayonnaise
3 Romana salad leaves
3 slices of munster
grated mozzarella
1/2 onion
1 endive
1 pinch of sugar
1 knob of butter
Preparation:
1) Spread all the inner sides with old-fashioned mayonnaise (for me homemade).
2) Chop the onion, remove the leaves from the endive, put everything in a sauté pan with the knob of butter, brown until brown, then add the sugar and a little water.
3) Assemble the burger: on the bottom slices of bread put a sheet of romana, a slice of munster, the minced steak, grated mozzarella, a layer of endive with onions and cover with the top slices of bread.
4) Bake for 5 minutes at 180 °.