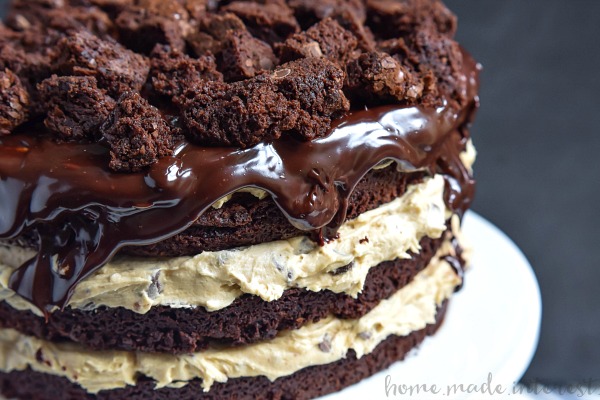 Today's Brownie Chocolate Chip Cookie Dough Cake was a labor of love. Last year for his birthday my guy requested a cake that combined two of the things that he loves most, brownies and chocolate chips cookies. Well not so much the cookies (though he wouldn't say no to those!) but more precisely chocolate chip cookie dough. He always tells this cute story of how his mom never wanted him to eat chocolate chip cookie dough because she said it would make him sick so when he got to high school he signed up for a Home Ec. class and the day he learned to make chocolate chip cookies he raced home and whipped up a big batch. His mom came in the kitchen and asked him if he wanted her to preheat the oven and he told her there was no need. Then he took the bowl of dough and headed up to his room where he ate the whole thing. That's my guy! 🙂
Anyways, I'm getting off track. Because I love him, and it was his birthday after all, I came up with this amazing brownie chocolate chip cookie dough cake and I even added a layer of dark chocolate ganache on top because I'm just that nice. The cake itself was really easy to make. The brownie layers are just brownies baked in 9-inch round cake pans. I used a box mix but if you have a homemade brownie recipe you love you can certainly use that. The filling is no bake cookie dough which is so delicious you're going to have to stop yourself from eating half of it before it makes it on to the cake. I used my favorite chocolate chip cookie recipe and removed the eggs from it. I replaced the moisture from the eggs with a little bit of milk and I added just enough to make it a little looser than cookie dough would usually be so it spread more like a frosting.
I didn't want the chocolate-y goodness to end there. Birthdays are special! So I made a quick ganache and poured it over the top then sprinkled it with chunks of brownie. This cake is truly decadent and totally worth it if you have a chocolate lover in your life!
If you are a true chocolate lover or you know someone who is we have a few more awesome recipes for you from some of our favorite bloggers! Valentine's day is just around the corner so make two or three and surprise your sweetie!
INGREDIENTS :
2 boxes Brownie mix (this should be mix that makes 9×13 inch pan of brownies, that will make 2 9 inch rounds, if smaller double the amount of brownie boxes) + ingredients listed on box (or your favorite homemade brownie recipe!)
2 1/4 c Flour
1 tsp Salt
2 sticks Butter , softened
3/4 c Sugar
3/4 c Brown sugar
1 tsp Vanilla extract
3 tbsp Milk
2 c Chocolate Morsels
2 c Dark chocolate , finely chopped
1 c Heavy cream
INSTRUCTIONS :
Mix the brownie batter up and pour it into 4 greased and parchment lined 9-inch round pans. Bake brownies following the instructions on the packaging for 8×8″ brownie pan.
While the brownies bake and cool make the no bake cookie dough.
In a bowl mix together flour and salt.
In a separate mixing bowl cream together the sugar, brown sugar, and butter.
Add Vanilla extract.
Slowly add the flour mixture a little at a time.
Once fully combined add the milk a tablespoon at a time until the cookie dough is a consistency that is loose enough to spread.
Fold in the chocolate chips.
Heat the cream in the microwave until it begins to boil then pour over the chopped chocolate stirring until completely melted and smooth.
Assemble the brownie cake starting with a layer of brownie, then spreading no bake cookie dough over it, brownie, cookie dough, brownie, and a last layer of cookie dough.
Pour the ganache over the cookie dough and chop up the last brownie round and sprinkle over the top.
Enjoy!