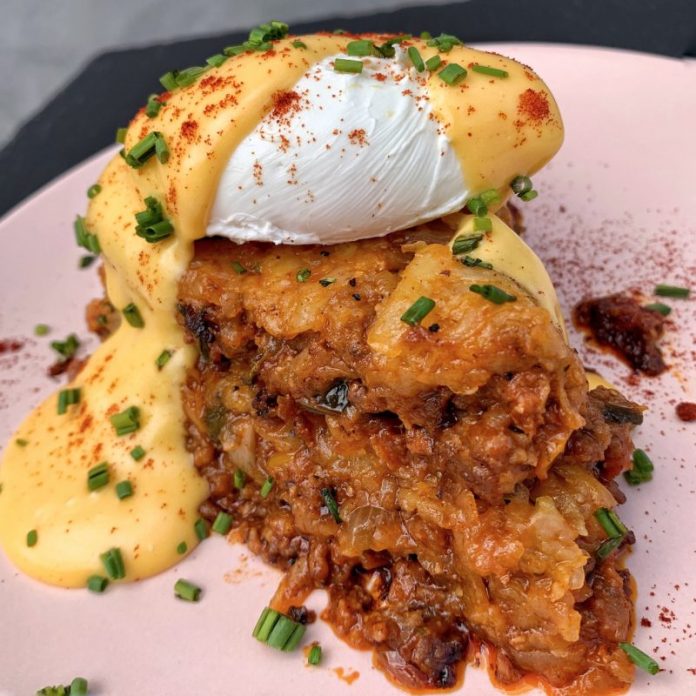 For the Shepherd's Pie portion:
1

 

lb

 

breakfast sausage

1/2

 

lb

 

beef chorizo

1

 

diced onion

1

 

diced poblano pepper

2

 

diced bell peppers

2

 

cloves of minced garlic

1/4

 

cup

 

tomato paste

1/4

 

cup

 

flour

1

 

cup

 

chicken or vegetable stock

4-6

 

yukon gold potatoes
For the Hollandaise sauce:
4

 

eggs yolks

1/4

 

cup

 

salted butter

1

 

tbsp

 

lemon juice

1

 

tsp

 

smoked paprika
12

 

eggs

 

(1 for each slice of pie)

1/4

 

cup

 

white vinegar
Combine the sausage and the chorizo in a frying pan. Cook until there is no longer any pink in the sausage.

Add the onions and cook for about 3-4 minutes or until the onions begin to soften. Add the peppers and cook for an additional 3 minutes.

Mix in the tomato paste and stir until it has combined well with the meat and vegetables. Sprinkle on the flour and mix well. Then, add the stock and simmer for about 5 minutes or until the liquid has reduced by half. Set it aside.

Fill a large pot with water. Using the large side of a box grater, grate the potatoes and add to the water. Bring to a boil, then immediately drain and set aside.

In a separate frying pan, heat some butter with oil. When the butter is foaming, add the drained potatoes and cook on medium high without stirring for 5 minutes.

When the potatoes start to get golden brown around the edges, flip and continue to cook for an additional 5 minutes. Careful slide the potatoes off the pan and onto the top of the meat mixture. Bake in a 400ºF oven for 20 minutes.

Meanwhile, work on the hollandaise sauce. Melt the butter. Whisk the egg yolks and the lemon juice until combined and double in volume. After the eggs and lemon are combined, while whisking, slowly add a little bit of the melted butter at a time. Continue to whisk until the sauce has thickened and doubled in volume. Season with salt, and smoked paprika.
Bring a medium pot of water to a boil. Crack the eggs into a small bowl. Add the vinegar and stir vigorously in order to create a funnel. Carefully drop the eggs into the water. Boil for 3 minutes. Take the eggs out and set aside to place on top of each piece of pie.
When the pie is done cooking, let it rest for about 10 minutes. Carefully cut out of a wedge and place on a plate. Top with poached egg and hollandaise sauce.