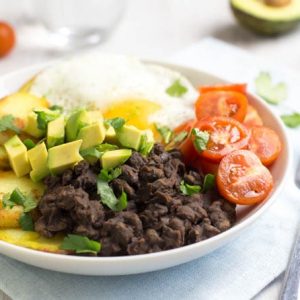 Ingredients
2 tablespoons olive oil
4 eggs, beaten
1 (15 ounce) can black beans, drained and rinsed
1 avocado, peeled and sliced
1/4 cup salsa
salt and ground black pepper to taste
Directions
Heat olive oil in a small pan over medium heat. Cook and stir eggs until eggs are set, 3 to 5
minutes.
Place black beans in a microwave-safe bowl. Heat on High in the microwave until warm,
about 1 minute.
Divide warmed black beans between two bowls.
Top each bowl with scrambled eggs, avocado, and salsa. Season with salt and black
pepper.