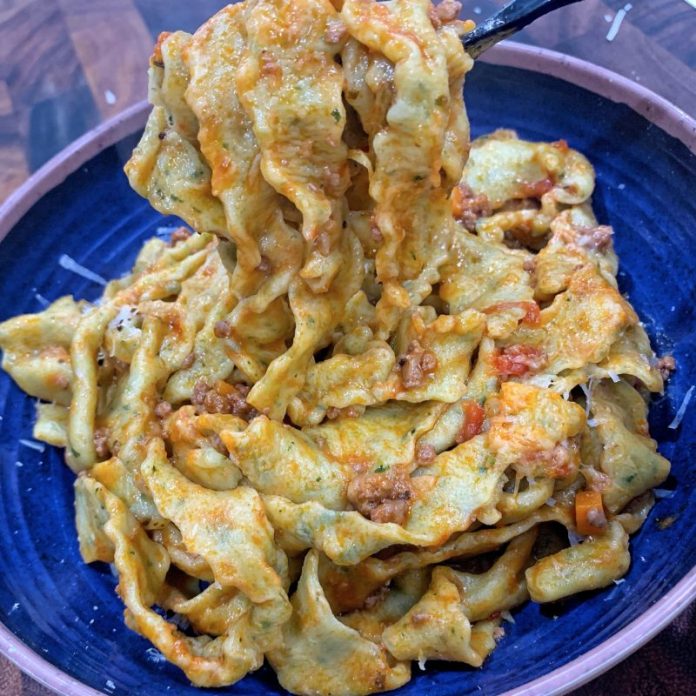 3 1/2

 

cups

 

all purpose flour

1

 

cup

 

fresh basil

4

 

eggs

1

 

tbsp

 

water
1

 

lb

 

ground beef

1/4

 

lb

 

Italian sausage

1

 

cup

 

diced carrots

1

 

diced onion

3

 

cloves minced garlic

2

 

chopped celery stocks

1

 

cup

 

red wine

1

 

cup

 

milk

2

 

cups

 

San Marzano crushed tomatoes

1

 

tbsp

 

Italian seasoning

1/4

 

cup

 

tomato paste

1/4

 

cup

 

Calabrian chili paste

1/4

 

cup

 

shredded parmesan cheese

 

For garnish
Start with the pasta dough:
In a food processor, combine the flour with the basil. Pulse it a few times until the basil is combined with the flour.

Once the basil is combined with the flour, add all four eggs one egg at a time until the dough pulls together. If the dough is a bit dry add the water.

Knead the dough on a floured surface until it comes together. Wrap the dough in plastic wrap and place it in the fridge until later (about 30 minutes minimum).
Drizzle 2 teaspoons of olive oil to a saucepan or pot. Add the carrots, onions, and celery and cook for a few minutes.

Once the vegetables have begun to soften, add the garlic and continue to cook for about 3 minutes.

Once the vegetables are soft, add the meat and cook for about 10 minutes on medium high heat. Add the wine and continue to cook until the wine has evaporated.

Add the milk and cook it down for about 7-10 minutes. Add the chopped tomatoes, and combine. Then, add the tomato paste, Calabrian chili paste, and Italian seasoning. Season with salt and pepper and bring to a simmer (simmer for about 30 minutes or longer for a deeper flavor).
Bring a pot of salted water to a boil.

In the meantime, use a pasta maker to roll out the dough to 1//8 of an inch in thickness.

Cut the pasta into 1 inch thick noodles. Add to the salted boiled water and cook for roughly 3 minutes for al dente. Reserve 1 cup of pasta water.

Transfer about 2 cups of sauce to a frying pan on medium heat. Add the pasta and combine. Add a bit of the pasta water and mix well until the sauce coats the pasta noodles.

Plate the pasta, and garnish with parmesan cheese.