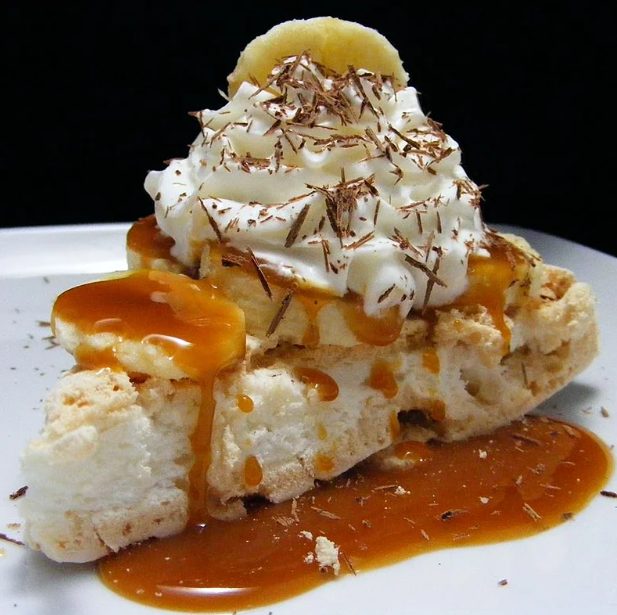 Ingredients:
1 cup castor sugar or superfine sugar
2 teaspoons cornstarch
1 pinch cream of tartar
4 egg whites
1 pinch salt
1 dash vanilla extract
1 teaspoon white wine vinegar
2 small bananas, sliced
1 cup caramel ice cream topping
1 tablespoon grated semisweet chocolate, for garnish
2 cups sweetened whipped cream
Instructions:
Preheat the oven to 350 degrees F (175 degrees C). Line a baking sheet with parchment paper or aluminum foil, and trace an 8 inch circle onto the surface.
In a small cup or bowl, stir together the sugar, cornstarch, and cream of tartar. In a large glass or metal bowl, whip the egg whites with salt, vanilla, and vinegar until soft peaks form. Gradually sprinkle in the sugar mixture and continue to whip until stiff and shiny. Mound the mixture into the traced circle on the baking sheet. Flatten the top and smooth the sides using a metal spatula.
Place in the preheated oven, and immediately reduce the heat to 300 degrees F (150 degrees C). Bake for 1 to 1 1/2 hours, until a pale golden brown. Turn off the oven, and leave the door slightly ajar with the pavlova inside until completely cooled.
Just before serving time, invert the cooled pavlova onto a serving plate, and top with slices of banana. Cover banana with caramel sauce. Top that with whipped cream and sprinkle with grated chocolate.