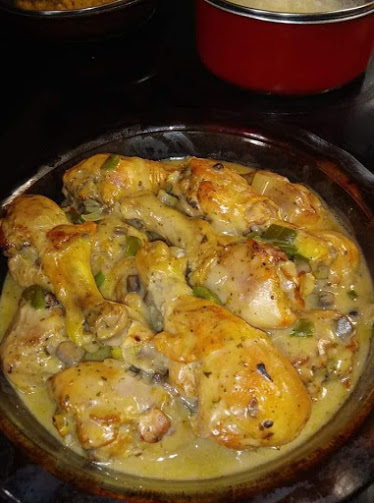 Ingredients
For The Chicken:
1 1/2 pounds (700g) boneless skinless chicken thighs (around 6-8 fillets)
1 teaspoon each onion powder and garlic powder
1/2 teaspoon each of dried thyme and rosemary
1/2 teaspoon salt
1/4 teaspoon cracked black pepper
2 tablespoons olive oil
For The Sauce:
1 tablespoon butter
8 ounces (250 g) sliced brown mushrooms
4 cloves garlic, minced (or 1 tablespoon minced garlic)
1 tablespoon fresh chopped parsley
1/2 – 1 teaspoon each of dried thyme and dried rosemary (adjust to your taste)
1 1/2 cups heavy cream / thickened cream (evaporated milk or half and half)*
1/2 cup fresh shredded parmesan cheese
Instructions
Pat chicken thighs dry with paper towel and trim off excess fat. Combine the onion powder, garlic powder, herbs, salt and pepper. Coat the chicken evenly with the combined seasoning.
Heat 1 tablespoon of oil a large pan or skillet over medium-high heat and sear chicken thighs in batches until browned on each side and no longer pink in centre (about 8 minutes each side, depending on thickness). Add remaining oil if needed for second batch. Transfer to a plate; set aside and keep warm.
To the same pan or skillet, melt the butter and add the mushrooms. Season with salt and pepper and cook until soft (about 3 minutes). Add the garlic, parsley, thyme and rosemary; sauté until fragrant (about 1 minute).
Stir in cream, bring to a simmer, then reduce heat and continue cooking until sauce has thickened slightly. Stir in the parmesan cheese and allow it to melt through the sauce for a further 2 minutes, while occasionally stirring.
Return chicken to the pan. Taste test and season with salt and pepper to your taste. Garnish with fresh parsley.
Enjoy