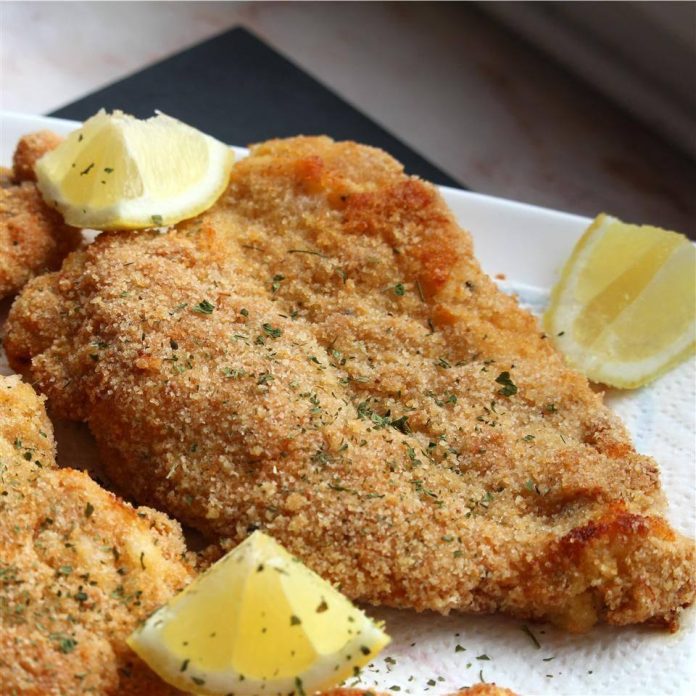 1 tablespoon olive oil, or as desired
6 eaches chicken breasts, cut in half lengthwise (butterflied)
1 pinch salt and ground black pepper to taste
¾ cup all-purpose flour
1 tablespoon paprika
2 large eggs, beaten
2 cups seasoned bread crumbs
1 large lemon, zested
INSTRUCTIONS :
Step 1: Ready the oven and preheat to 220 degrees C or 425 degrees F.
Step 2: Arrange a line of aluminum foil in a large baking sheet then drizzle a generous amount of olive oil over the foil.
Step 3: Put the prepared baking sheet into the preheating oven.
Step 4: Place the chicken breasts on a clean plate and lightly press them to flatten into 1/4-inch thickness. Season with salt and pepper to taste.
Step 5: On a large plate, add in the flour and paprika. Whisk until well mixed.
Step 6: In a medium shallow bowl, add in the eggs. Season with salt and pepper then whisk until well mixed.
Step 7: In another large plate, combine bread crumbs and lemon zest.
Step 8: Dip each chicken into the flour mixture, egg mixture, and bread crumbs mixture.
Step 9: Arrange the dipped chicken breasts into the baking sheet. Drizzle olive oil over the chicken breasts.
Step 10: Place the baking sheet into the preheated oven and bake for 5 to 6 minutes or until cooked through.
Step 11: Remove from the oven. Serve and enjoy!
Note:
You can season your bread crumbs or use panko instead