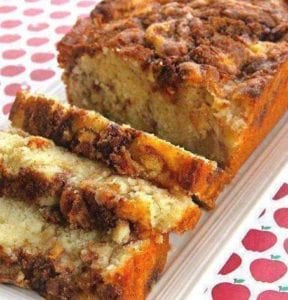 Apple Cinnamon Bread is quick and easy to make from scratch and makes your house smell amazing! Swirled with delicious spiced apples and topped with cinnamon sugar, this quick bread recipe is sure to be a fall favorite
This apple cinnamon quick bread has a nice crumb and is not overly sweet – a perfect fall breakfast, snack or dessert! The chopped apple inside that's mixed with brown sugar and fall spices like cinnamon and nutmeg makes this bread super moist without it being doughy and keeps it fresh for days.
This cinnamon apple loaf cake tastes great warm out of the oven but I love it even more after a day or two! The flavor of the cinnamon apples come through even more when the bread has rested. Perfect for busy days when you don't have time to bake on the same day!
What I also love about baking this cake is that the house smells amazing afterward! No need for fall candles, this easy recipe comes with your favorite fall scents included!
Make this Recipe You'Il Need the following ingredients:
Nobody makes a Apple Cinnamon Bread as good as grandma and she's proven that with this recipe.
To Make this Recipe You'Il Need the following ingredients:
1/3 cup brown sugar (not packed)
1 teaspoon ground cinnamon
2/3 cup white sugar
1/2 cup butter, softened
2 eggs
1 1/2 teaspoons vanilla extract
1 1/2 cups all-purpose flour
1 3/4 teaspoons baking powder
1/2 cup milk
1 apple, peeled and chopped
Preheat oven to 350 degrees. Grease and flour a 9 x 5-inch loaf pan. Mix brown sugar and cinnamon together in a bowl and set aside.

Beat white sugar and butter together in a bowl using an electric mixer until smooth and creamy. Beat in eggs, 1 at a time, until incorporated; add vanilla extract.

Combine flour and baking powder together in another bowl; stir into creamed butter mixture.

Mix milk into batter until smooth. Pour half the batter into the prepared loaf pan. Next add half the apples and half the brown sugar cinnamon mixture. Lightly pat apple mixture into batter.

Pour the remaining batter over apple layer; top with remaining apples and add more brown sugar/cinnamon mixture. Lightly pat apples into batter; swirl brown sugar mixture through apples using a finger or spoon.

Bake in the preheated oven until a toothpick inserted in the center of the loaf comes out clean, 30 to 40 minutes