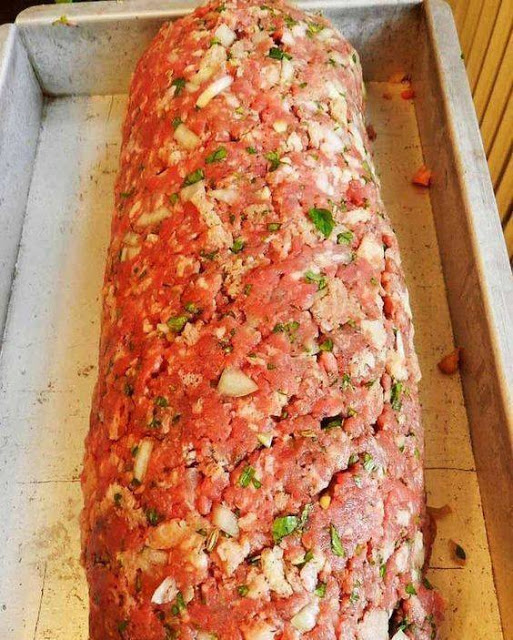 This meatloaf is basically one big giant meatball, or at least that's what I tell my kids so that they'll eat it. But, seriously, it is similar to meatballs, only it has a lot more flavor and is easier to make. I like to serve it with my Big Italian Salad — a firm family favorite — and Parmesan Smashed Potatoes, but it's delicious with pasta too. Leftovers are even better the next day, sliced and topped with melted cheese in a warm sandwich.
As you can see, I use a good quality store-bought marinara sauce. Feel free to make your own, but I don't think it's worth it since the recipe only calls for 3/4 cup.
Begin by chopping the vegetables. I use a food processor, which makes it quick and easy. You want to pulse until the vegetables are finely chopped but not puréed — this makes for a nicely textured meatloaf. (And always rough chop the veggies before putting them in the machine, otherwise they won't chop evenly.)
Ingredients:
1 lb. ground beef
1/2 lb. ground mild Italian sausage
1 small onion, finely chopped
1/2 C. chopped bell pepper (I used orange, it was all I had in the freezer)
1 tsp. olive oil
1 tsp. Worcestershire sauce
1 clove garlic, minced
1/2 tsp. oregano
1/2 tsp. basil
1/2 tsp. parsley
1 egg, beaten
3/4 C. Italian bread crumbs
2 slices white bread, crumbled
1 T. milk
8 oz. shredded mozzarella cheese, reserve 3/4 C. for topping
1/4 C. parmesan cheese
1 C. marinara sauce, plus 1/2 -3/4 C. more for topping
How to make it:
In a small skillet, heat the olive oil over med. high heat and sauté the onion and bell pepper for 3-4 minutes, remove from heat. In a large bowl, add the meats, onion, and peppers along with all remaining ingredients reserving 3/4 C. mozzarella cheese for topping. Now, dive in there with the best tools God gave you, your hands and combine everything really good. Once it has all come together, place and mold the mixture in a baking dish of your choice. I used my oval Portuguese stoneware for ours. Spoon 1/2 to 3/4 C. of the marinara sauce on top and spread around. Place in a 400-degree oven for 50 minutes. Remove from the oven and top with the remaining cheese and sprinkle a little dry basil over the top. Return to the oven for 10 more minutes. Make sure the meat is not pink before serving, baking time will vary depending on the thickness of your loaf. Mine was about 2″ thick.